Many customers will ask how to choose an optical cable with a suitable structure for my project? One of the simplest and most effective ways to categorize is by structure. There are 3 main categories.
1. Stranded Cable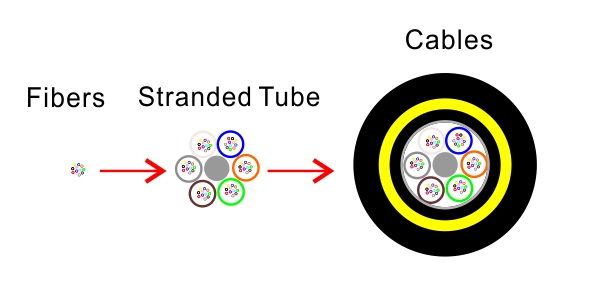 2. Central tube Cable  
 3. TBF tigh -buffer 
Other products are derived from this basic structure,According to the actual needs, the configuration of different outer sheath and armor.
Fiber Type: Single mode G652D G657A1 OM1 OM2 OM3 
Jacket type:PVC / PE / AT / LSZH
Armor: Steel wires / Steel tapes / Corrugated Steel Armoring(PSP) | Aluminum Polythylene Laminate(APL)| Aramid Yarn
Sheath: Single / Double / Trible
As a professional fiber optic cable manufacturer in China for 19 years, we have rich experience in manufacturing of types fiber cables, we also support OEM/ODM services, if you are interested in our projects, pls contact with our salesman or technical team online!