GYTA53-24B1 buried optical cable center metal reinforcement core, aluminum tape + steel tape + double-layer armor structure, excellent compressive performance, can be buried directly, no need to wear a pipe, the price is slightly more expensive than the pipe cable GYTA/S, the GYTA53 cable price will be lower Depending on the quantity required, the place of arrival and other factors are different. You can call our business phone to get a quotation.
Product link share: https://www.gl-fiber.com/gyta53-stranded-loose-tube-cable-with-aluminum-tape-and-steel-tape-6.html
Email us: [email protected]
Whatsapp: 0086 18073118925
The structure of the GYTA53 optical cable is that the 250μm optical fiber is sheathed in a loose tube made of high modulus material, and the loose tube is filled with a waterproof compound. The center of the cable core is a metal strengthening core. For some optical cables with a certain number of cores, a layer of polyethylene (PE) needs to be extruded outside the metal strengthening core. Loose tubes (and filler ropes) are stranded around a central reinforcing core to form a compact and circular core with gaps in the core filled with water-blocking filler. A layer of polyethylene inner sheath is extruded after longitudinal wrapping of plastic-coated aluminum strip (APL), and polyethylene sheath is extruded after longitudinal wrapping of double-sided plastic-coated steel strip (PSP).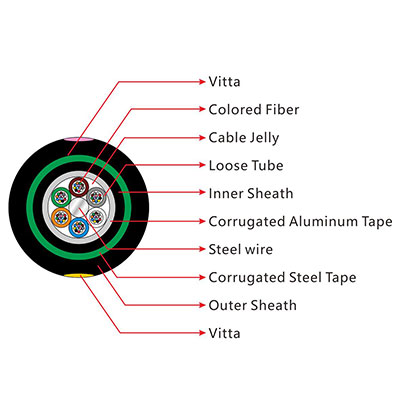 ● Adopt "SZ" two-way layer stranding technology
● Water-blocking ointment filling step by step, full-section water-blocking
● Steel (aluminum) strips have reliable bonding, high strength, and no cracking when torsion
● Stable fiber excess length control
● After being cabled, the additional attenuation of the optical fiber is close to zero, and the dispersion value does not change
● Excellent environmental performance, the applicable temperature range is -10℃~+70℃
● Suitable for oil sector, subway, tunnel, electric power, long-distance communication and inter-office communication, etc. The optical cable is suitable for laying in direct burial on sites requiring fire and flame retardancy.